The Brian Kenny Show
6pm- to-7pm
on KPUG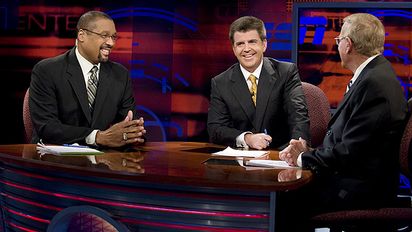 Click here to go to Brian's ESPN Radio page


Brian Kenny is the host of ESPN Radio's The Brian Kenny Show
6pm to 7pm on KPUG

Brian Kenny was named anchor of the 6 p.m. ET edition of SportsCenter, ESPN's flagship sports news and information program in August 2006. He also hosts ESPN2 Friday Night Fights, ESPN Classic's Top 5 Reasons You Can't Blame, and co-host for that network's Classic Ringside.

Kenny has served as an ESPN anchor for Baseball Tonight -- receiving a Sports Emmy Award in 2003, and has hosted many shows on the ESPN family of networks.

Kenny was named 2004 "Media Personality of the Year" by Sports Illustrated, and was the 2005 recipient of the Sam Taub Award, given by the Boxing Writers Association of America to its Boxing Broadcaster of the Year.

Kenny has also called play-by-play for ESPN's Wednesday Night Baseball, the World Baseball Classic. He also hosts ESPN's coverage of the Baseball Hall of Fame induction ceremonies in Cooperstown, NY.

Prior to joining ESPN, Kenny was Sports Director at WTZA-TV in Kingston, N.Y. for 11 years (1986-1997). While at WTZA, he won 11 New York State Broadcasters Association Awards, and five Associated Press Awards for Journalistic Excellence. From 1985-1986, he was a news reporter then sports anchor at WLIG-TV in Riverhead, N.Y.

Kenny, born October 18, 1963, attended St. John's University and the New York Institute of Technology. He graduated magna cum laude from New York Tech in 1985. He is married and has 5 children. His daughter, Alexandra, is a professional ballerina, and is a member of the Columbia City Ballet (South Carolina)."