The KPUG Nooner
with
Colin Cowherd 12pm - 1pm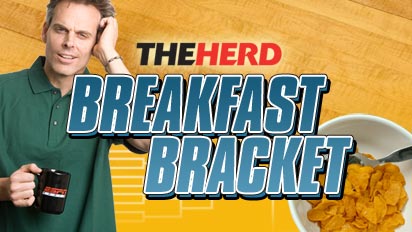 Click Here to go to Colin's ESPN Radio page

Colin Cowherd joined ESPN Radio March 29, 2004 with the debut of The Herd,
which airs 12pm - 1pm on KPUG.
The Herd features topical commentary on the day's most important sports news, perspective on the top stories, interviews with the biggest newsmakers, and entertaining daily segments including "Spanning the Globe" and "Rants of the Day."

"We work our tails off and take sports seriously, but can laugh at ourselves too," Cowherd says. "The Herd has a different sound and vibe, and we hope fans enjoy it.
My goal has always been to produce the best show possible, and ESPN's commitment and resources make this is a perfect fit."

Cowherd joined ESPN Radio from KFXX 910-AM "The Fan" in Portland, Ore. where he hosted the popular three-hour morning-drive program The Herd. He also anchored weeknight sports and "Sports Sunday" for KGW Northwest NewsChannel 8.

Cowherd's experience includes serving as sports anchor at Tampa's WTVT-TV, where he received a local Sports Emmy for Buc Sunday, and as sports director at KVBC-TV in Las Vegas, where he was a multiple recipient of Nevada's Sportscaster-of-the-Year award.
He began his career as play-by-play voice for the Pacific Coast League's Las Vegas Stars.